Line 6 Xd-v55l Lapel Radio Mic - Ideal For Conferences / Houses Of Worship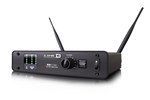 * Shipping price shown uses the cheapest domestic shipping service. More options available at checkout.
Line 6 XD-55L Lapel Wireless System
Licence Free - Digital UnCompressed Sound - Superb performance
Line6 - The World Leader in Digital Wireless
If you are in the market for a lavalier / tieclip microphone, then the Line6 mics should be at the top of your list!
Use it Licence Free Anywhere!
The Line6 XD-V55 digital wireless operates in the 2.4GHz ISM band, which avoids interference from TV broadcasts, white space devices, cell phone towers and other transmitting devices. XD-V55 systems ensure peace of mind and the most reliable operation worldwide, from Hollywood to Tokyo.
Worried about interference caused by Wi-Fi and Bluetooth devices that operate in the 2.4GHz ISM band? Don't be! Line 6 XD-V55 digital wireless systems use uniquely addressed and encoded digital transmission technology, so your signal will travel from transmitter to receiver free of interference.
For vocalists, musicians, performers and active spoken word presenters who require hands-free operation, XD-V55 bodypack systems offer three EQ filter models that enable fast access to professionally tailored sounds. Mic placement is no longer a variable – on collar, chest or cheek, or even plugging an instrument into the transmitter – the custom EQ filter models will help to optimize the system performance to the situation.
And with multiple channels easily selected then up to 10 of these systems can be used together!