Jim Dunlop Cry Baby GCB-95 Wah Wah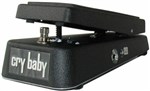 The Industry Standard Wah Wah
Jim Dunlop Cry Baby Wah Wah Pedal Model GCB-95
The crybaby has been a standard in the world of music since its introduction in the late 1960s.
Listen to the classic recordings of Jimi Hendrix and Eric Clapton where the crybaby is used extensively.
Tip - when using a lot of distortion the effect will not be as prominent. Try setting the pedal in one position. This will help in making artificial harmonics and control the amount of feedback.