Eq Freespace Gobo,freestanding Acoustic Panel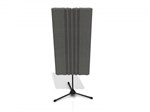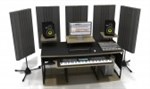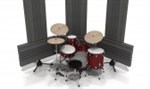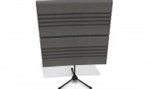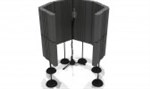 * Shipping price shown uses the cheapest domestic shipping service. More options available at checkout.
Free-Standing Acoustic Treatment
Stand mount horizontally or vertically, or combine to create your perfect mixing, mastering or recording environment. Equally ideal for location recording or spaces where variable acoustics are required.

Fast
FreeSpace is lightweight and can be fitted to any standard mic stand in seconds thanks to the elegant fixing method. No need to cover your walls with messy glue, FreeSpace optimises your acoustics with the minimum of hassle!
High Performance
Formed from a rigid, open cell acoustic foam, FreeSpace can be used to absorb sound reflections and create separation between instruments and microphones. Efficient across a broad range of frequencies with pronounced performance in the 'mids', FreeSpace is engineered to avoid over absorbing high frequencies which can lead to lifeless and inaccurate sounding rooms.

Stylish
A contemporary design featuring clean lines and manufactured to our usual high standards, FreeSpace looks the part in any recording studio or listening space.
Quantity: 1 per pack
Colour: Graphite grey
110cm x 57.5cm x 10cm
Vertical and horizontal mounting slots
Compatible with all standard mic stands
Combine multiple units for unlimited acoustic possibilities!
NRC >0.75
FMVSS 302 Fire*