EQ Acoustics Classic Wedge Foam Tiles 30cm Blue Pack Of 16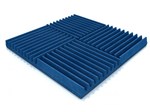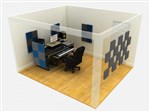 * Shipping price shown uses the cheapest domestic shipping service. More options available at checkout.
Ideal for your recording studio, vocal booth, home cinema etc. Classic Wedge 30 tiles reduce unwanted reverberation and sound reflections resulting in better recordings, tighter mixes and a more accurate and pleasing sonic experience.
Manufactured from EQ's exclusive open cell acoustic foam, this product is a stylish interpretation of the classic 'Wedge' design. Produced in our state-of-the-art manufacturing facility, these acoustic tiles have a uniquely sharp and consistent finish for the ultimate 'studio' look.
Tile Size: 30cm x 30cm x 5cm
Quantity: 16 tiles per box
Coverage: 1.44 SQM
Noise Reduction Coefficient (NRC): 0.85
Fire: UL94 HF1