Dynacord Powermate PM 600-3 Mk3 Powered Mixing Desk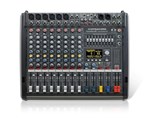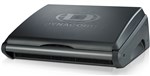 Available from £39.93 per month.
Product Description

Finance Options

Product Reviews
Dynacord Powermate 600 Mk3 Powered Mixer for Self Contained Artistes & DJs
The Best just got Better! USB In/Out, More Power, Lighter!
Dynacord Powermate 600-3 Powered Mixer. New Model, Now 2000W. Incredibly Lightweight. Only 8.9 kg in weight
POWERED MIXER IDEAL FOR SOLO ARTISTS AND SMALL BANDS
The Dynacord Powermate 600 Mk3 is the nicest small mixer amp made today aimed at solo artists / small bands.
The Powermate 600-3 features a 2 X 1000W (4Ohm) built in amplifier plus 2 reverb units, which can be set to 10,000 different settings!
Fortunately the "out of the box" setting is as good as you need, with a lovely reverb and echo setting. This is one amp that sounds good without any alteration.
6 mic inputs,
2 stereo inputs, 4ch USB in and out.
Speakon outputs, monitor outs.
It even comes with a transportation cover.
3 Year warranty.
Only 8.9 kg
4 channel USB in out allows programs such as Virtual DJ to use 2 sliders on the mixer for Left & Right Deck
It comes with the relevant software which is easily installed on either a mac or PC giving the drivers required to work with the Dynacord. We have done this many times and can install the drivers on your computer free of charge and get your dj setup uo and running.
Finance Options:
| Finance Product | APR | Deposit | Monthly |
| --- | --- | --- | --- |
| Classic Credit 24 Months 19.9% | 19.90% | £269 | £54.71 |
NOTE; this table is examples only, for actual application, add item to your cart and proceed to checkout where you can choose Finance as payment method.
I used this every weekend for my gigs would re commend this to all performers
Great piece of equipment best mixer i have had many thanks ***